THIS WEEK'S NEWS
Fourteenth Sunday of Year "C" – The New Law of Christ
As revealed in the Parable of the Good Samaritan, this inspires us to 'go beyond' the laws on our statute-books in spreading the Gospel, comforting the sick and helping the poor.
This Sunday, we pray especially for seafarers as the second collection is taken for the Apostleship of the Sea. 
Our 'New Law' (like the Old in today's first reading) is 'very near to you – in your mouth and in your heart' – thanks to the authority of Jesus, celebrated magnificently by St Paul in his first chapter to the Colossians.
Catenians Honour for St Benet's Stalwart!
The following report was  posted on the Diocesan Website, on Monday 08 July.  Our congratulations to Brian!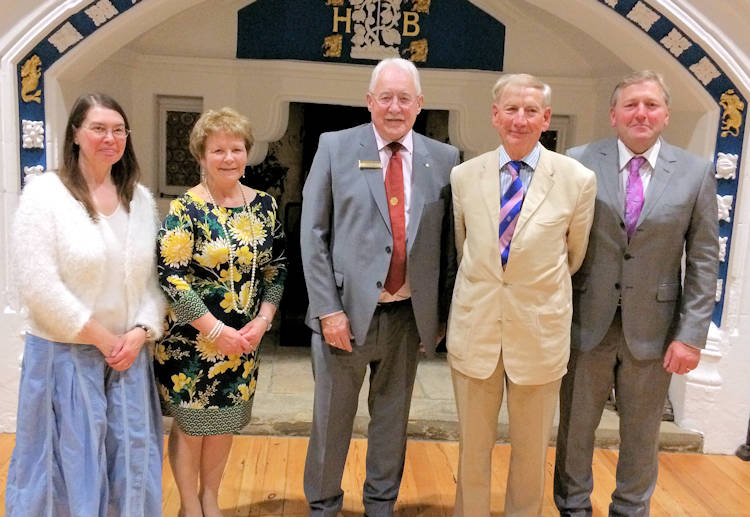 "The highlight of the June meeting of the Norwich Circle of the Catenian Association, held in the Refectory of the Great Hospital, was the presentation of 50-year scrolls to Brian Lewis and  Susan Baker, daughter of the late David McWeeny OBE. The presentations were made by Phil Brown, Great Britain's National President of the Association."
Pictured left to right are Jacinta Goode, Susan Baker, Phil Brown, Brian Lewis and Phil Hoy
Congo School for Peace
Mary will say a few words at 8.00 Mass to update you.about her recent visit to meet the sisters. 
Forms are available at the back of the churches for those who wish to sponsor Peter Hobbs who is cycling from Land's End to Unst in Shetland in aid of the school.
Absence; 18/19 July
Fr Martin will be away briefly during the week for an Extraordinary Chapter to be held at Downside Abbey: July 18th (pm) – 19th (am).
Waveney Foodbank
Many thanks for all your donations placed in the box at the back of St Benet's.  They are much appreciated by foodbank users. 
Please keep them coming in as the school holidays are fast approaching and it is a struggle for many families to put extra meals on the table during the six weeks of holiday time.
Items required are:  Tinned vegetables, rice puddings, steamed dessert puddings, tins of custard, instant rice and noodles, tinned fish (tuna, sardines etc), packets of detergent (small), washing up liquid, toilet rolls, shampoo and conditioner, deodorant, shower gel and sanitary products.
Many thanks for your generosity.
THIS WEEK'S EVENTS
Fusion Music Theatre;  Sunday 14 July
Meanwhile, our last chance to experience 'The Life & Times of Sylvia Moon' with Fusion Music Theatre is today – Sunday 14th July  at 3 pm in St George's, Loddon.
The show incorporates some of their best scenes, songs and dances from the past ten years.  
End of School Term Play;  Monday 15 July

During the last week of term, St Benet's School Leavers will be putting on a mystery play: Monday 15th July  at 6 pm in the Parish Hall. 
We wish every success to our school leavers and to all those who'll be looking to the future after the summer holiday.
COMING EVENTS
Grandparents' Pilgrimage to Walsingham; Sunday, 21 July
We begin with Mass at midday (preceded by Sacrament of Reconciliation)
This is followed by "The Walsingham Story" (2.30 pm) with Eucharistic Adoration from 4 pm.
A celebration of faith and fun for all the family in the grounds of the National Shrine of Our Lady.
Mary's Meals Mass; Sunday 21 July; 18:00
Support continues with a good number of backpacks assembled by our Primary School children in time for the end of term – their contribution will be celebrated in a special Mass next Sunday evening, 21st July, at 6 pm. 
The appeal for Mary's Meals Backpacks continues in the parish until the end of the summer – for further details, ring Helen on 01502 710483.
Parish Outing to Thetford Priory;  Monday 22 July
This annual event marks the beginning of the school holidays. 
Mass will be celebrated in the Priory ruins at midday for the parishioners of Beccles and Bungay and for any others who would like to join us. 
We shall also have access to the historic Catholic church in the town, to which we can be introduced with a guided tour if wished. Other details of the trip are advertised on the notice at the back of St Benet's and Gillingham churches.
We shall travel by car to Thetford, taking our own picnics; it would be a good idea to bring cushions / rugs / chairs / waterproofs, etc…
Prayer Vigil; Friday 26 July
We shall again be visited by the Vianney Missioners who will hold a vigil in St Benet's between 6.30 and 10.00 pm
We shall celebrate Adoration of the Blessed Sacrament; prayers for vocations, for our families and for our homelands; worship songs; and Proclamation of the Gospel. 
All parishioners are encouraged to come and join in!
Summer Courses for those aged 18 – 35 
Places are still available for the Discernment Retreat at the Dowry House in Walsingham, NR22 6BZ (26th-28th July: ring 01328 801018 for more details) and for the Evangelium Conference near Reading (16th-18th August – details are posted at the back of the both churches).  Funding is available for both (please apply to Fr Martin).
Charity Market Stalls; Fridays 02 and 16 August
Last Friday's market stall in Beccles raised £156 for the May Centre.
The other two local charities supported by St Benet's this year are Clinks Care Farm and The Waveney Centre with market stalls on Fridays 02 and 16 August. 
Goods for sale and offers of help will be gratefully received by Pam Storey; call  01502 711 966.
Diocesan Pilgrimage to Knock; 07 October 2019. 
The cost will be £599.00 pp ( 2 persons sharing) includes flight with 10kg hand luggage, from Stansted, 4 nights' in Knock House Hotel with full board.  
All entertainment/ guided tours included. Single room supplement £100.  
Contact Patricia on 01268 762 278 or email knockpilgrimages@gmail.com.
Repository
We will be open today after 10.30 Mass as usual.
We always have a stock of Bibles, Missals, Prayer Books. Crosses, Crucifixes, Rosaries and other devotional items.
For all you organized people, Christmas catalogues will be available for you to order items ready for early posting.  HURRY!  and beat the rush!
COMING ACTIVITIES & EVENTS
The "Weekly Mass Schedule" gives details of all Services and Mass Intentions.
Information on coming events and activities is on this separate page. 
For longer term planning, you may also find the monthly "Events Diary"  useful.
Previously published – but still relevant! – information, is on this  page.